As a tenant of the Rensselaer Technology Park, companies can join an exclusive community of science, technology, and engineering-based companies with premium access to RPI. Rensselaer hosts a variety of programs and centers organized specifically to engage industrial partners, and, as a member of the Rensselaer Technology Park, tenants receive concierge-level guided assistance to access Institute programs, centers, and facilities. Each of these critically-acclaimed programs is organized to help partner companies develop system-level solutions for high-impact product and process challenges across a broad array of industries and disciplines.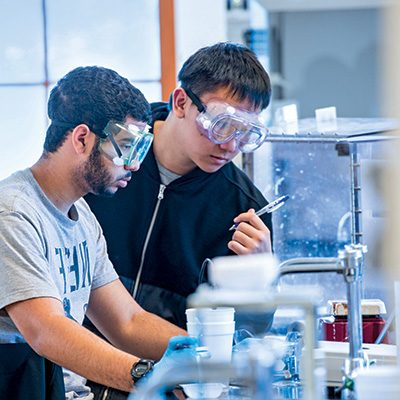 Technology Park tenants can receive immediate entrée to the university for student experiential learning opportunities including the Arch program, internships, co-ops and part-time employment. This includes a thriving community of entrepreneurial faculty and students whose seminal ideas and analytical insights can help companies translate fundamental research into innovative ideas, products and processes to help businesses move forward.
Learn more about The Arch Program or explore other student engagement opportunities
Space and Property Inquiry (online form)
Current Tenant Map (pdf)
Current Tenants (by industry)
AKRF Inc.
AKRF is a national consulting and engineering firm providing services in the fields of transportation and infrastructure, water and waste water, power and energy and land development.
Applied Biophysics, Inc.
Applied Bio Physics, Inc., manufactures an analytical instrument – ECISTM (Electric Cell-Substrate Impedance Sensing). ECIS electrically monitors morphological changes of cultured cells in real time and provides quantitative, real time measurements of cell behavior including cell migration and extravasion of endothelial monolayers by metastatic cells.
BioChemInsights
BioChemInsights is an industrial biochemical engineering and consulting firm that integrates molecular biology expertise with its ground breaking electrochemical bioreactor.
Computational Center of Nanotechnology Innovations (CCI)
The Center for Computational Innovations (CCI) is a partnership between Rensselaer Polytechnic Institute, IBM, and New York State. Together, the three partners created one of the world's most powerful university-based super computers, known as AiMOS.
Dynamic Applications Inc.
Dynamic applications specializes in Microsoft.net software development and data systems integration.
GE Healthcare
GE Healthcare provides transformational medical technologies and services that are shaping a new age of patient care including the areas of medical imaging and information technologies, medical diagnostics and patient monitoring systems.
GreyCastle Security
GreyCastle provides consulting and services to prepare and protect clients from emerging cyber threats through the continuous availability of effective solutions that are rooted in alignment, quality and satisfaction.
InterScience, Inc.
InterScience is a contract research and development company specializing in biomedical, electrical, optical and related technologies with primary interest in their defense, homeland security and medical applications.
Jordan Energy & Food Enterprises, LLC
Jordan Energy & Food Enterprises, LLC works in the areas of renewable energy and sustainable food. Jordan Energy focuses on solar installation development and investment opportunities with the renewable energy sector.
Lithoz America
Lithoz builds and sells additive manufacturing equipment to produce high-performance ceramic parts that are widely used in the electronics, aerospace, and biomedical industries.
Meso, Inc.
Meso provides computerized commercial atmospheric information services while conducting federally-funded atmospheric research and development projects.
NanoPharmaceuticals, LLC
NanoPharmaceuticals is an emerging pharmaceutical company devoted to the discovery, development and commercialization of innovative, molecularly targeted compounds for diseases with significant unmet needs.
New York Center for Liver Transplantation, Inc.
Since 1988, the New York Center for Liver Transplantation, a non-profit organization comprised of all the liver transplant programs in New York State, has brought together liver transplant professionals dedicated to collaboration, data sharing and peer review to enhance the quality of liver transplant services.
NYS Dept. of Education/Biological Survey Laboratory
The aquatic ecology laboratory and fish collection of New York State Museum. Research deals with assemblage structure of lake and stream fishes and natural history and distribution of fishes, amphibians, reptiles and crustaceans.
OneVision Solutions
OneVision Solutions specializes in visual and audio communication. Particularly specializing in video communication, VOIP solutions and webcasting.
Precision Manufacturing an Equipment
The Precision Manufacturing and Equipment Company specializes in technology development for optics fabrication, optomechanical system design, process optimization, and industrial automation.
Pulmokine
Pulmokine is a pharmaceutical company developing new treatments related to pulmonary and cardiovascular diseases.
The Radiant Store (a unit of Zeroth)
Preserving the earth's resources through better technology, The Radiant Store is a diversified company specializing in renewable power: thermal solar hot water systems, integrated solar hydronics, and radiant heating systems.
Raith America
Raith is a high technology enterprise, which, develops, sells, delivers electron and ion beam lithography and other nanofabrication products and technology.
Regeneron
Regeneron (NASDAQ: REGN) is a leading science and technology company delivering life-transforming medicines for serious diseases.
Seed Engineering
Seed Engineering is a civil and environmental engineering firm that provides sustainable design solutions ranging from green building design, environmental consulting, and environmental engineering and energy efficiency services.
Systems Implementation, Inc.
Provides data processing consultation, installation, training and other computer-related support to the small and medium sized businesses. By delivering software with a complete package of core features built in using its proprietary platform FUSION for Wireless, helps companies merge islands of disparate data that before were isolated. This gives individuals and departments enhanced control and better management of data and systems across an entire business.
U.S. Geological Survey
The New York Water Science Center provides the hydrologic information and understanding needed for the optimum use and management of the nation's water resources.
Weld Computer Corporation
Weld Computer Corporation is the leading experts in controls, monitors, machines and metallurgy can analyze and resistance welding operation and provide practical solutions to meet any customer requirements.
Vascular Vision Pharmaceuticals
Vascular Vision is an independent life sciences company focused on the development of novel therapeutics and diagnostic modalities for the treatment of cardiovascular, oncological, and ophthalmological disorders.
Pat's Barn
Pat's Barn is one of the region's most popular and highest rated conference and events facilities.
Pacamor Kubar Bearings
Pacamor is one of the few remaining U.S. based manufacturers of high quality precision and instrument miniature ball bearings and bearing assemblies.
Albany Medical Center
Albany Medical Health System is the largest and only regionally governed, not-for-profit health system in northeastern New York and western New England.
Community Care
Community Care Physicians (commonly called CCP) is the largest, independent multi-specialty medical group in the Capital Region of NY.
Nationwide Retirement Solutions
Nationwide provides administrative services for New York State Deferred Compensation.
Solasus Web Solutions
Professional Web Design and graphic design company in Albany, New York. Offering SEO, SEM, internet Marketing Services, Web Hosting, and Consulting.
Tutor Time
Tutor Time is a national child care center and family education corporation. "Fostering development, Building self-esteem, Sparking imagination with loving attention and safety. Guiding children's first steps toward a life-long love of learning".
United Realty Management Corporation
United Group (UG) is a nationally recognized and award-winning corporation with over 30 years of successful experience in development, financing, acquisitions, repositioning, and professional management of a wide variety of real estate assets.
Audubon International
Audubon International's mission is to deliver high-quality environmental education and facilitate the sustainable management of land, water, wildlife, and other natural resources in all places people live, work, and play.
Donate Life New York State
Donate Life New York State is dedicated to increasing organ, eye and tissue donation throughout the State. Our goal is to ensure that every person in New York waiting for a transplant receives one.
ESSAE
The Empire State Society of Association Executives advances the association profession through a community of knowledge, sharing, education and advocacy.
Hudson Valley Community College
Hudson Valley Community College's mission is to provide dynamic, student-centered, comprehensive, and accessible educational opportunities that address the diverse needs of the community.
Retired Public Employees Association
The Retired Public Employees Association, RPEA, is an advocate organization that serves current and future public service retirees.
NextStep Federal Credit Union
NextStep FCU provides financial services for educational institutions and private companies, and their families in Rensselaer, Albany, and Columbia Counties.
WERC Women's Employment Resource Center
WERC is a private, not-for-profit organization that works to advance women's success in the workplace by building their economic and personal independence.
WMHT
WMHT is the only full-service public broadcaster serving Eastern New York and Western New England. WMHT operates public television stations WMHT, WMHT-World and WMHT-Create TV, as well as public radio stations WMHT-FM 89.1/WRHV-FM 88.7, WEXT-FM 97.7, and RISE, a radio reading service for the blind and print-disabled.
Women Business Owners Association (NAWBO)
NAWBO is the only dues-based organization representing the interest of all women entrepreneurs across all industries; and with chapters across the country, including the Rensselaer Technology Park.
Rifenburg Companies
The Rifenburg Companies provides its clients with services and expertise in the fields of highway construction and restoration, site development, landfill technologies, environmental clean-up, utilities installation, mining, aggregate sales, equipment sales, leasing, and rentals, and airport maintenance and runway reconstruction.