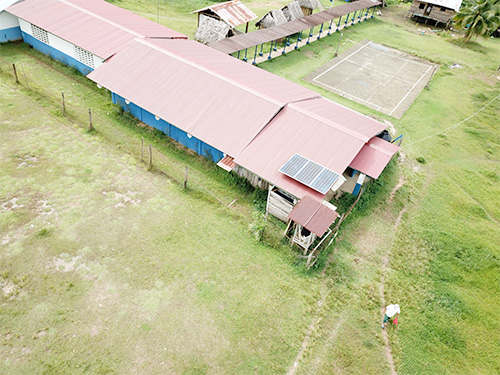 Seed Solar and Engineering (Seed) encompasses a professional engineering services firm and a solar photovoltaic installation company to provide a broad range of engineering and environmental services, including renewable-energy installations, green-building construction and environmental engineering consulting.
Seed works with businesses, homeowners, builders (as part of the Energy Star Residential New Construction Program), farms and local municipalities. Seed also works with local nonprofits that are making a positive impact, including Habitat for Humanity Capital District, Schenectady's SEAT Center (Social Enterprise and Training Center) and the Troy Rehabilitation & Improvement Program (TRIP).
Transformative community projects that are part of Seed's portfolio include the Habitat Sheridan Hollow redevelopment project and the upcoming TRIP redevelopment project in North Troy.
"Seed combines the core values of sustainability and stewardship," says founder and president Cris Schrader. "We believe that all of us are responsible for the quality of the environment in which we live."
The Rensselaer Connection
Schrader graduated from Rensselaer Polytechnic Institute in 2003, earning a dual-major degree in environmental engineering and psychology. He started his career in the environmental remediation sphere, working as a consultant for Fortune 500 companies, such as General Electric and CSX Corporation.
Schrader is a licensed Professional Engineer in several states, including New York, and is a licensed Master Electrician in the city of Troy. Seed, founded in 2009, has eight employees including two recent Rensselaer graduates, and has been located in the Rensselaer Technology Park Campus for three years.
Schrader says the close proximity to the university, name recognition and opportunities to collaborate with other businesses are what attracted him to the business park. For instance, Seed shares building space with The Radiant Store, a company that specializes in HVAC, solar thermal and other renewable and sustainable energy systems.
"We have a symbiotic relationship and have worked on a number of projects together," Schrader says, "so being able to collaborate in close proximity as business neighbors has been ideal."
Volunteering Efforts and a Work-Experience Pipeline
As part of his personal mission to help those in need around the globe, Schrader volunteers his time and services extensively for several charity organizations, including serving as president of To Love a Child's board of directors.
TLC provides humanitarian assistance to impoverished children and their families notably in Haiti, Zimbabwe and locally. In his various TLC trips to Haiti, Schrader has installed solar panels, inverters, and other renewable energy equipment.
Schrader is a mentor for RPI Engineers For a Sustainable World (ESW-RPI), a student club working on a mobile solar charging station for Haiti in coordination with TLC as well as solar PV and solar hot water projects in Mexico.
He is also a mentor for the Rensselaer Chapter of Engineers Without Borders (EWB-RPI), a student club working on a clean water project in Nicaragua, a solar PV project in Panama and a rain catchment system for a Capital Roots community garden in Troy. Through EWB, he met Britney Emmick, who completed an internship at Seed and is now a full-time employee.
"I had other internship offers out of state, but I chose to stay in Troy," says Emmick, 22, who earned her bachelor's degree at Rensselaer in environmental engineering with an emphasis on sustainable studies in 2019. "As an engineer, I hope to help as many people as possible, and being a part of Seed that combines real-work experience with volunteering opportunities is very satisfying."
In one ongoing project, Emmick is working with the City of Watervliet to make its food-waste biodigester more efficient, which has included the installation of solar PV panels so that the system now runs 100 percent on renewable energy.
"It's a pleasure," says Schrader, "to work closely with the university in the Technology Park and with Rensselaer graduates as Seed continues to grow and give back to the community."